Group travel is great but it's hard to maintain those pre-holiday levels of excitement as you argue with your parents over whether to sit by the pool or visit a Roman fort. Or, as you stare in silence as the waiter places the bill in the centre of your friends and you attempt to subtract two tap waters and a bag of crisps from a €200 tab.
As travellers ourselves, we understand that group travel can have its ups and downs and that if not kept under a close eye those downs have the potential to sour a great trip.
So, we've consulted the experts, we've looked back on our own travels, we've remembered where it all went wrong and, more importantly, where it all went right and we've put together this handy little list of our top tips for travelling with groups.
MAKE SURE YOU'RE FRIENDS FOR THE FLIGHT HOME
If you're going away with friends, whether it's a short city break or a backpacking adventure, it's important to know you'll return home at least as close as when you left, so make sure you pick travelling companions you know you'll get on with for most of the time.
Say, like, 80,85% of the time.
We know in big groups this can be harder to manage and if you all mingle on a regular basis then you should be fine, just keep an eye on anything brewing under the surface.
However, if there are just two travellers, you'll be spending almost every waking minute with each other and it's important to make sure you don't get to the airport and realise the sound of your backpacking buddy chewing makes you want to miss the flight.
Achingly attractive, witty, travel writer for Lonely Planet, Leif Pettersen, has this to say on the matter:
"More often than not, blasting off with someone you don't already know well is going result in trip-curdling disharmony. That includes your drinking buddy, that smokin' hot babe you've dated for two weeks, and even the achingly attractive, witty, travel writer you met in the hostel's breakfast room."
YOU CAN'T PICK YOUR FAMILY
If it's a family holiday, however, we get less of a say in the matter. Leaving one child at home is deeply frowned upon in most cultures and rarely results in Home Alone levels of hilarity.
Rightly or wrongly, family holidays have a reputation to being more akin to a triathlon than a genuine holiday, but this doesn't need to be the case.
Lola Borg of the Daily Telegraph has put together this great guide on surviving a family holiday. If you don't fancy reading the whole thing, we've picked a couple of key points for you.
It's ok to be bored, this is where creativity is born. Plus, if you can't be bored on a beach, where can you be?
Teenagers are a lost cause
Factor in some of that sweet, sweet alone time
THOSE THAT PLAN TOGETHER, STAY TOGETHER
Planning is key when it comes to group travel and the bigger the group the more important this is. Arguments and awkward moments can be avoided and money (and relationships) saved.
Budget wise (more on this later), it's good to know how much money you all have and how expensive your destination is. It's vital to get a feel for the place before you go. If you're backpacking across Europe knowing that it costs nearly £8 for a beer in Oslo but just £4 in Amsterdam can be pretty useful.
If only someone had put together a collection of spending and visiting guides for you to use in advance (spoiler alert: we did).
SETTLE BILLS LONG BEFORE THEY ARRIVE
Money is such an elephant in the room on most holidays that you'd be wise to book it a bed in the hostel dorm.
But it really doesn't have to be.
Writing for Forbes, travel writer, digital nomad and founder of Baldnomad.com (see photo of Geoffrey for explanation) Geoffrey Morrison has this to say on the matter:
"It's probably best to establish what the money plan is ahead of time. Chances are someone makes less than everyone else and is not looking forward to splitting a $400 meal 6 ways when all they had was pasta.
Discussing it ahead of time also gives an embarrassed party to talk about it separately from the group. Regardless, approach this topic with caution. I've screwed this up a few times, unknowingly."
And Geoffrey is right; splitting the bill down the middle can work well with two close friends on a similar budget, but may be less appealing if you're on minimum wage and holiday with all your friends that went into finance. So have that awkward discussion before the bill is put down.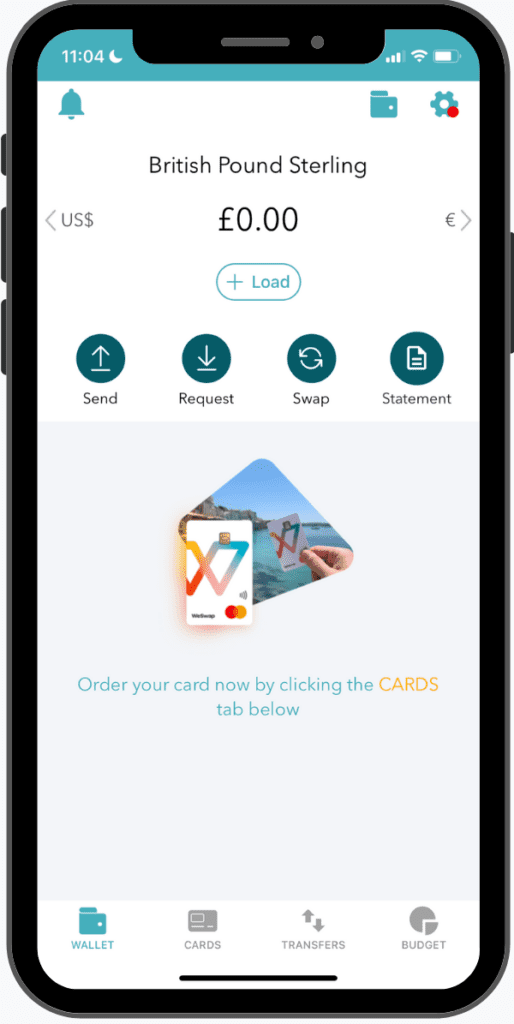 MAKE THE MONEY TALK A LITTLE EASIER
The money conversation can be made a lot smoother if all you and your mates are in a position to send money freely between each other.
If you go out without your wallet or lose your card, you want to be able to quickly shoot some emergency funds to a friend. Or, if you're sharing a meal or all chipping in for an activity, collecting money from a group can be a hassle. Paying people back can be a palaver too. There's loads of travel cards and apps out there but, if we don't say so ourselves, not many that make paying your mates back as easy as WeSwap.
You can send money to any of your friends who have a WeSwap card, in any of our currencies. Just tap send on the app, choose send, decide on the amount you wish to transfer and pick a contact. The money will be in their account in seconds, so there's no waiting around if you've just splashed out on booking the group's travel or quickly paid for a meal because you're running late for a bus.
Plus, there's no minimum, which is ideal if you opt for the pay-for-exactly-what-I-ordered-right-to-the-very-last-penny approach.
KNOW WHICH PAGE YOU'RE ALL ON
If there's eight of you heading to Thailand and four of you want monasteries and four of you Full Moon parties, it can come as quite the surprise to you both when suitcases are opened and half are filled with modest clothing and half glow sticks and slogan vests.
So make sure you're all, if not on, at least aware of each other's page. Our friend Geoffrey Morrison of Baldnomad.com has more wise words on this:
"This is by FAR the most important thing, and important to discuss before any further planning. Just because you all want to go to Greece doesn't mean you all want the same thing out of it. Sure you might say "oh the beaches" and "ooo, ruins" but if you're thinking 90% beaches and 10% ruins, and they're thinking the opposite, there's going to be conflict.
This happened to me. Some friends and I spent all this time planning our trip to the Netherlands and France, and once we got there, all they wanted to do was party until 5am, sleep until 3pm, and repeat. I, you know, wanted to see the country we were in."
Key to surviving these conflicts of interest is knowing it's absolutely fine to not do everything together. If you're in a big group, split into two, even three little groups. If there's just two of you, alone time is something to be thoroughly embraced.
COMMUNICATION, COMMUNICATION, COMMUNICATION
Finally, and most importantly, use your words. Travel writer Youliang Teo stresses how important this is writing for Tripzilla:
"While you're having the time of your life, remember to constantly check on your friends. Talk frequently with them and make sure that they're on the same line as you. Especially in a group setting, where interests and ideals are prone to clash, there will be some form of uneasiness lingering in paradise!"
We feel like a bit like we're repeating ourselves on this one, but it's important not to forget. Any issues, talk about them asap, do regular check-ins, make sure you all know what you're here for, say if you want some alone time…. Just talk to each other for crying out loud!