How to avoid being ripped off by ATMs abroad
Ever notice how ATMs abroad politely ask if you'd like to be charged in your home currency (the currency you use when you're at home; pounds in Britain, euros in Europe etc) whenever you withdraw cash? Card machines at retailers will sometimes do this too, as will certain websites based abroad.
That's kind of them, isn't it? Offering you the comfort of a currency you know and understand. Letting you make the transaction on your terms. The reality, however, is no, it's not kind of them. And it's certainly not on your terms. It might seem like the easier option but choosing to convert into your home currency can end up costing you a small fortune.
A small fortune?
A small fortune.
Why?
This is because this nice little offer from cash machines is actually something called Dynamic Currency Conversion (DCC). DCC is a function that allows banks to set their own exchange rates for converting your money when you're abroad. If you say no and choose to be charged in the local currency, you'll get the exchange rate your bank or prepaid travel card sets.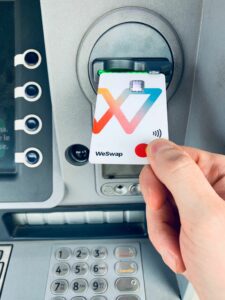 How much more will I be charged?
It's hard to say for certain, but the general view is that it can be around 5-10% extra on top of the mid-market rate (the actual exchange rate before any fees are added by banks or FX providers). The guys at Your Money have gone into the numbers in more detail if you'd like some further reading.
Can DCC take place on contactless payments?
If you're making a contactless payment, you'll automatically be charged in the local currency so you don't need to be worried about DCC. If you've exceeded your daily contactless limits (these vary depending on your card provider) and need to enter your PIN, you'll likely then be offered DCC.
Is anything being done to stop DCC?
Yes… for prepaid multi-currency cards anyway (like, ahem, us, WeSwap, 👋). From April 12, 2019, Mastercard® changed their rules for prepaid cards that means ATMs and terminals can no longer offer prepaid multi-currency cardholders the option of converting.
However, not every card machine and retailer has started following the rules yet so you may still be offered the option. This should stop by April 16, 2020 when it becomes mandatory.
If you have a regular card, Mastercard now requests all terminals state clearly the exchange rate and any other fees choosing DCC could incur.
Why do these changes only affect prepaid multi-currency cards?
The way that prepaid multi-currency cards works means you've often already exchanged your money into another currency at an agreed exchange rate before you start spending. It doesn't make sense (and also isn't fair) for you to then be offered another chance to convert, especially not at a worse rate. The reason DCC defying rules haven't been bought in for regular debit and credit cards is due to competition laws that say Mastercard must allow other banks and money providers to offer other exchange options to cardholders.
How do I get a prepaid currency card?
There are a lot of great options out there, but if we can toot our own horn for a second, we think we're pretty great. The WeSwap prepaid multi-currency is completely free and can be used in over 180 countries and can save you up to 90% on your travel money vs traditional providers likes banks and bureaux.
And that, in a nutshell, is DCC. It can seem a little complicated but above all, remember, if you're offered the chance to convert, to Just Say No.