Given that WeSwap HQ stands tall in North London and that we have tons of data on how real travellers spend here, we thought it only right to share our knowledge of how to travel in England's fair capital. Yes, London can be expensive, but it's also possible to travel smart and budget wisely.
If you need travel money WeSwap is the cheapest and easiest way to spend abroad - Get a travel money card or order some cash today from the "best travel money provider 2018"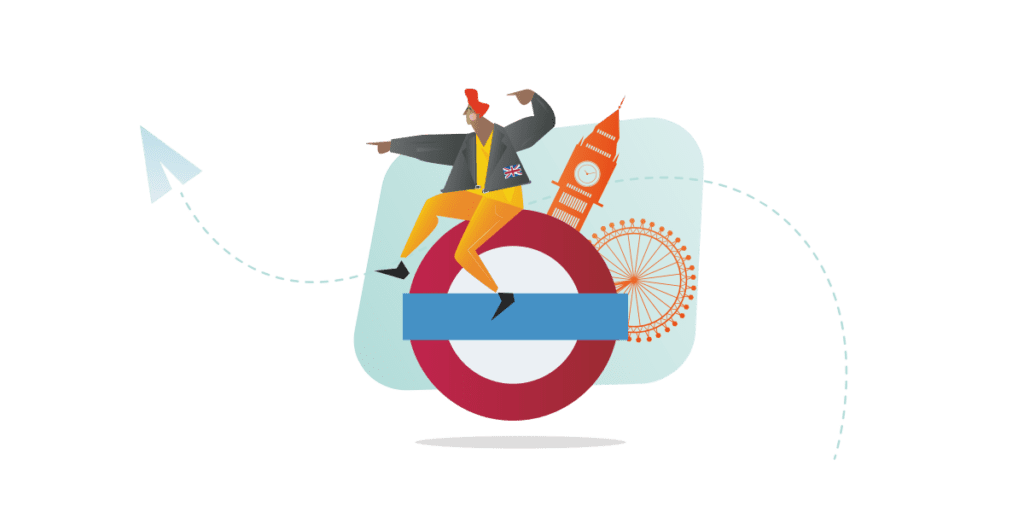 Average daily spend by real travellers in London: £90
This reflects what everyday travellers tend to spend in London. We haven't gone high-end and we haven't gone "living-on-a-shoestring" either. Think, most of the major attractions, a few cab rides, maybe a big night out, and a bit of shopping on the side. It doesn't include the cost of hotels or car hire as these are often booked in advance.
Eating Out: £40
Entertainment (bars, tours & attractions): £28 per day
Transport: £13 per day
Shopping: £40 (but you wouldn't go shopping ever day)
This puts the average cost of a trip to London for a week in 2018 at around £500-650. Want to see where it all goes? Read on!
Cost of Attractions, Bars and Museums in London
Real Traveller Average Daily Spend: £40
Most travellers coming to the capital tend to gravitate to the centre of town for their entertainment fix. It's worth remembering that whilst the West End (Soho) has a great buzz, places like Angel, Notting Hill, Camden and Dalston are great alternatives with tons of great bars, fringe theatre and other things going on.
"WeSwapper Favourite" The London Eye: £24.30
Sherlock Holmes Experience: £15
British Museum: Free
Southbank Centre: Free
West End Show: (prices vary)
Staff pick: The Comedy Store, Leicester Square: £17
Staff pick: Evensong at St Paul's Cathedral: Free
The London Eye is a great way to see London from a height but we would recommend doing it after a few days in the city, at least. Part of the joy is spotting places you've been and picking out where you might go next. You need some context and perspective to be able to do that.
There are enough free museums in London to ensure that unless there's an exhibition you really want to see, paying is unnecessary. The V&A, Southbank Centre, and Tate Modern don't charge a penny. The Southbank - on the south bank of the River Thames - is somewhere you should head for a walk around anyway - look out for Shakespeare's Globe Theatre.
The Leicester Square Comedy Store is a great way to relax after a long day's walking around. Don't worry if you don't see any names you recognise on the bill. This is the original Comedy Store - bad acts don't play here.
Seeing a West End theatre show doesn't have to be expensive. You can visit the "TKTS" booth in Leicester Square for cheap, last minute tickets if you're flexible on what you want to see.If you know what you want to see, try lining up at the theatre for stand-by tickets and returns.
Church-goer or not, "Choral Evensong" at St Paul's Cathedral is an experience not to be missed. This is a daily choir service that proves that St Paul's not only looks incredible, it sounds incredible too. Service begins at 17:00 most days but check online first. Oh, it's completely free too.
Cost of Food and Drink in London
Real Traveller Average Daily Spend: £45
"WeSwapper Favourite" Franco Manca Pizza: £19 (average transaction)
Serpentine Bar and Kitchen: £23
"Cocktail with a view" Sky Pod Bar: £18 ave cocktail
Glass of wine/beer: £5 - £7
Maltby Street Market £5-6 ave lunch
Avoiding tourist traps is crucial if you want to save your pennies so don't just grab a seat at any old restaurant chain in Leicester Sqaure because you're tired and hungry. Do a bit of research online before you head out to ensure you get a quality meal at a good price (they do exist).
Franco Manca is the favourite restaurant with WeSwap travellers who clearly have an eye for a bargain. This place serves up delicious sourdough pizza pie, and at super-reasonable prices. There are over 15 FM's across London now but the original one in Brixton Market is still the best. It's also a great excuse to head down to the end of the Victoria Line and visit one of London's most vibrant areas, Brixton.
Outside seating at the Serpentine Bar and Kitchen offers lovely views over Hyde Park's famous lake. Hyde Park is one of London's great city centre parks. It's nice to get some green in your life. Regent's Park and Hampstead Heath are also stunning and if the sun's out. Money can be saved if you opt for a scenic picnic, remember.
Borough Market has become a London institution and for good reason. But for something a little more "off-the-beaten-track" head down to Maltby Street on a Sunday. It's much the same sort of thing. To die for salt beef bagels, pulled pork sandwiches, awesome fresh coffee and brownies of all flavours. There's a buzz about the place, that's for sure.
Cost of Transport In London
Real Traveller Average Daily Spend: £12
Taxi into town from Heathrow: £65
Bus in from Heathrow: £12
Train in from Heathrow: £16.50
Daily unlimited travel card: £12.00
We focused on Heathrow as it's the biggest but London has many airports: Gatwick, Stanstead, Luton and City Airport too. Heathrow is actually on the end of the Picadilly line so it can only cost the price of a single tube journey to get into Town. That is what we would recommend.
The other airports are a short train journey away and will cost around £15 for a single ticket into town, give or take a few quid. Don't get taxis, you'll get stuck in traffic. City airport is on the DLR in east London so will only cost you a couple of pounds and is super easy. This airport is popular with business travelers because of the convenience.
If your bank card has contactless payment then there is no need for an Oyster Card anymore. Journeys cost around £2.50 depending on your zone but unlimited daily travel costs £12 and bearing in mind you can get anywhere with that - it's worth considering. Now WeSwap is contactless you can use your card on the tube!
Helpful travel tip:
When you're in Central London, it can often be just as quick to walk between Tube stations. A decent rule is that within the Circle Line - a popular line with people visiting the city - anything 3 stops or under is walkable in about 20 minutes.
Cost of a Shopping Trip in London
Real Traveller Average Daily Spend: £40
WeSwapper favourites:
Oxford Street
Staff pick: Portobello Market
Oxford Street has all of the big high-street brands on one manic stretch of road. Once you've had enough (it happens to the best of us) you can make a quick exit south into Soho or north into Fitzrovia. Head to New Bond Street and Mayfair to find the designer labels but beware, things get rather pricey. Covent Garden is also well known for it's shopping and you'll no doubt see some top-class street entertainment down that way too.
For a meandering shopping experience more geared towards finding a bargain, some bric-a-brac or just browsing, then head to Portobello Market in Notting Hill. It's not open on Sundays and closes earlier on a Thursday but it's open until at least 18:00 every other day of the week.
3 Days in London
Day 1:
Start out at the world famous British Museum - The first ever national public museum founded in 1753
Get the Piccadilly line from Holborn to Kings Cross or take a bus and go to Platform 9 3/4 at Kings Cross - For the Harry Potter fans
Lunch at staff favourite pizza joint Franco Manca (There is one near Kings Cross or Fitzrovia)
Head through Camden Town to Primrose Hill and take in the view
Just South of Primrose Hill at the bottom of Regents Park you will find the Sherlock Holmes Museum (for Beatles fans Abbey Road & the famous Zebra Crossing is just up the road)
You can get on the Bakerloo line to Oxford Circus and walk around SOHO for some food and drinks
Visit a West End Show or our staff pick - The Comedy Store, Leicester Square
Day 2:
Grab your camera and take some classic photos outside Buckingham Palace, Westminster Abbey, Big Ben and the Houses of Parliament, keep your eyes out for the red London phone booths!
Just over the river from these attractions you will find Southbank and Shakespeare's Globe, where you can get standing tickets for just £5
For food you can stop by Borough Market (open during the week & weekends) or Maltby Street (if it is a weekend)
Now you are a local Londoner it is time to take to the skies and see all the places you have been. The London Eye is a WeSwapper favourite or if you fancy a cocktail visit "Cocktail with a view" at Sky Pod Bar or go up the Shard.
Day 3:
Time for some shopping. Oxford Street is a great starting point and has all big high-street brands
After that Carnaby Street in SOHO or Covent Garden offer some more unique stores as well as street performers
If you still have the energy head West to Harrods or go a little further to our staff pick Portobello Market in Notting Hill and hunt for some bargains!
London crowds can be exhausting, head into a cosy London pub to unwind.
If you have any other tips of must see places, leave a comment below!
Last checked and updated: 03.01.2018. All travel, accommodation and entertainment costs are taken from the provider's official website – but don't forget to double check yourself first before you head off.
_
Our peer-to-peer platform makes travel money up to 90% cheaper for travellers. You'll also join a 200,000+ community swapping travelling tips and wisdom as well as their travel money!