Can you buy Indian rupees in the UK?
The short answer is no. The Indian Rupee is a closed currency that is heavily regulated, this means there are restrictions on taking the currency in and out of India. It's not permitted for tourists to take Indian rupees in or out of the country. However, (to make it more confusing) residents of India can take a limited amount in and out.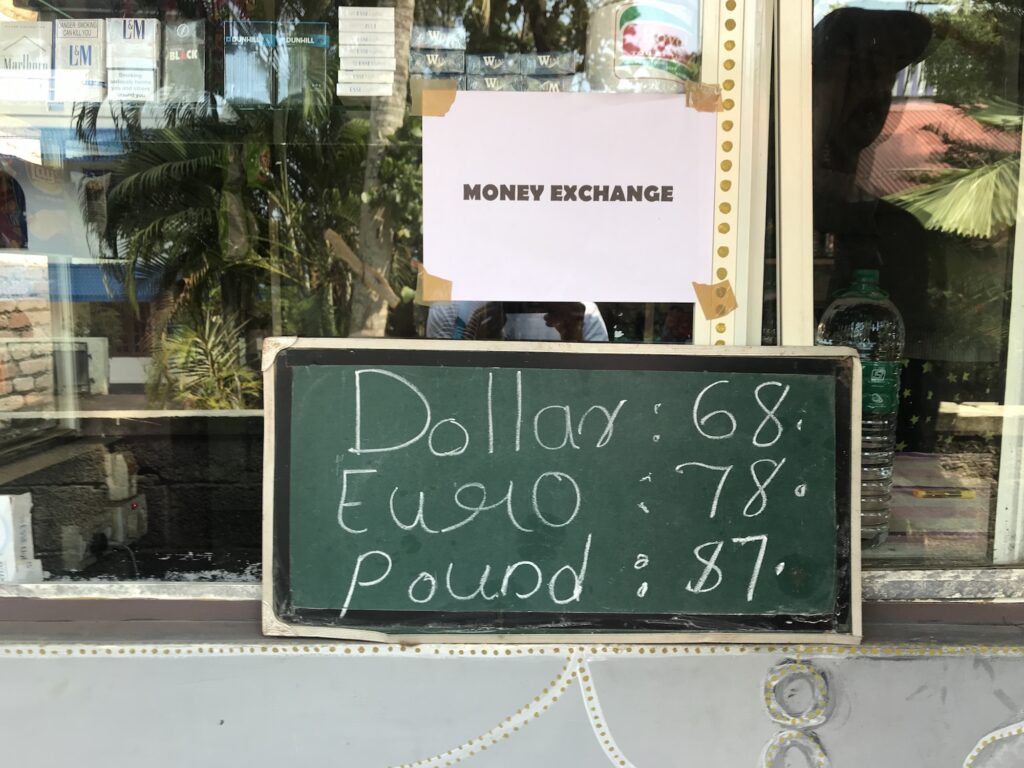 How to get Indian rupees
As you can't buy Indian rupees online or pick them up from the post office or travel agent you must get them on arrival. You have a few options once you're in India:
Exchange them at the airport
If you know anything about WeSwap, you know we don't recommend this option. You'll almost always get awful exchange rates, will likely pay a commission and will end up losing out. If you do have to do this, compare the different vendors and just exchange enough for your taxi fare.
ATM on arrival
This is a much better option than using a bureaux de change. Just watch out for your bank/card fees. Delhi airport has several ATMs, you will find some at the baggage claim and when you go through arrivals. Other international airports like Chennai, Trivandrum, Mumbai and Cochin all have ATMs available. Some may only have 1 which can be an issue if it's not working (which they often are).
Taxi from the airport
Many airports in India have a prepaid taxi service with set fares for certain distances. These are backed by the Indian government so you know you'll be getting a fair price. Of the ones we used they all took card as a payment option which saves you from exchanging money at the airport.
Money changers on the street
When you're walking around you'll probably see money changers on the street or in shops. These offer really good rates compared to the bureaux de change but double-check the notes you get in case they're out of circulation. India has old and new notes for certain denominations which can be confusing but both will be accepted. It's the 500 and 1,000 denominations that have been withdrawn that you need to look out for.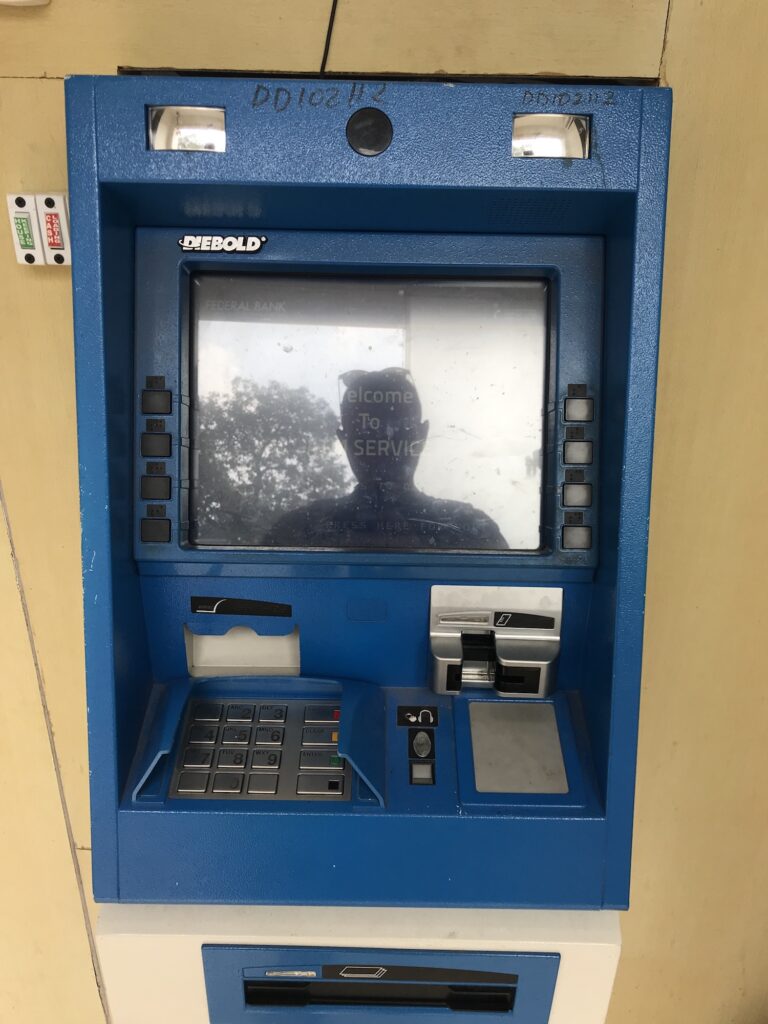 ATMs in India
Back in November 2016, the government announced that it was withdrawing 500 and 1,000 Rupee notes. This is to combat the high volume of fake notes in circulation. You can find out more about this from the Bank of India. The immediate withdrawal of these notes resulted in a cash shortage, daily limits and long ATM queues but this has improved a lot. Of all the ATMs we used, only one had run out of lower denomination notes but still had 500 rupee notes.
In general, ATMs work fine but can be a little hit and miss. Sometimes the ATM will just not work and cancel your transaction, other times it could be down to your bank or card provider.
Using your card in India
Paying on your card in India is common. We had no problem using our WeSwap card in restaurants, hostels, hotels and shops, with only smaller stores preferring cash. Some merchants add a % for using card but were upfront about this. You'll notice stickers and posters on shops accepting payments via app, as well as adverts for food app delivery and taxi app services in the cities and towns. It looks as if card and app payments will continue to rise.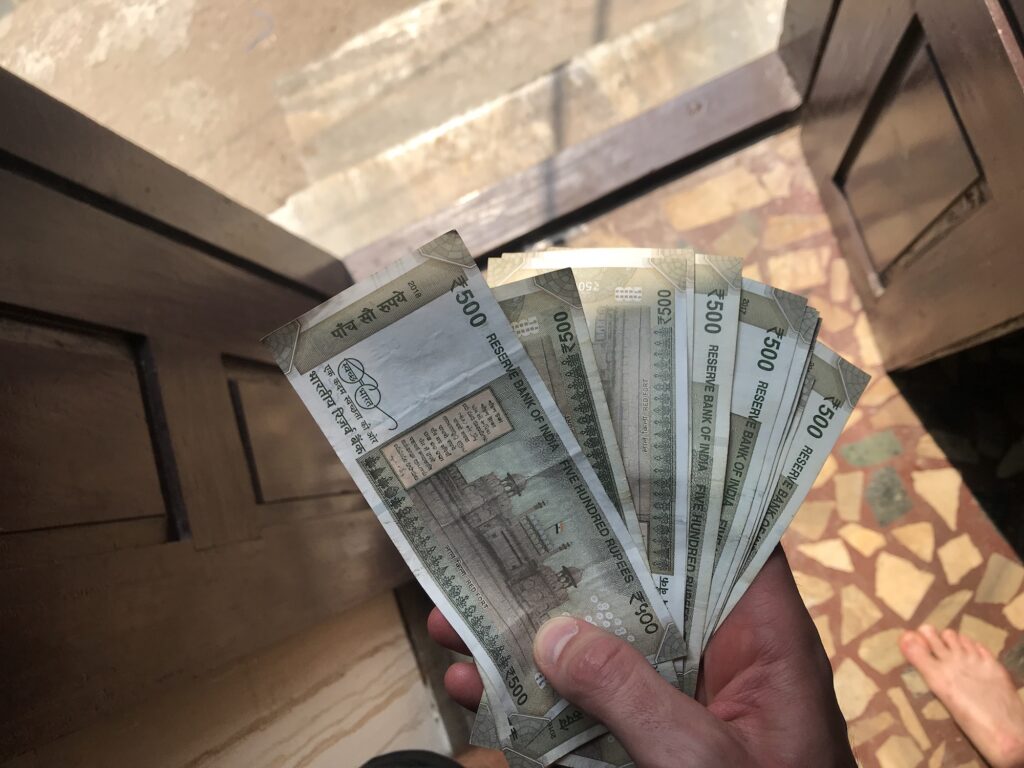 So which is the best way?
With card use on the rise and carrying larges amounts of cash a potential safety risk, we think it is best to use your card. Here is a comparison of some of the options we used.
| | |
| --- | --- |
| Provider | Exchange rate |
| Aiport | 70 |
| WeSwap | 88 |
| Monzo | 87 |
| Street vendor | 87 |
This was in December 2018 when one of the WeSwap team was in India
Can you take rupees out of India?
Taking rupees out of India is also prohibited for non-Indian residents. Residents can take out Rs. 25,000.